Show your support of Ohio deciding whether non‑citizens should vote
State Constitution
The Ohio Constitution states: "Every citizen of the United States"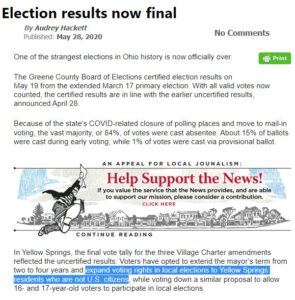 Read more here
Vote Yes on Issue 2
TO PROHIBIT LOCAL GOVERNMENT FROM ALLOWING NON-ELECTORS TO VOTE
Proposed by Joint Resolution of the General Assembly
To amend Section 1 of Article V, Section 3 of Article X, and Section 3 of Article XVIII of the Constitution of the State of Ohio
A majority yes vote is necessary for the amendment to pass.
The proposed amendment would:
Require that only a citizen of the United States, who is at least 18 years of age and who has been a legal resident and registered voter for at least 30 days, can vote at any state or local election held in this state.
Prohibit local governments from allowing a person to vote in local elections if they are not legally qualified to vote in state elections.
If passed, the amendment will be effective immediately.
---